We take pride in our reputation as a firm that is dedicated to doing the best for its clients.
We are a small but well-respected firm, serving local clients and those from across the globe, from individuals and SMEs to MNCs. We understand that legal processes can at times be complex and overwhelming and are therefore dedicated to helping our clients navigate the IP landscape and to provide strategic counsel in a cost-effective manner.
We have set for ourselves a high bar of integrity, consistency in service, responsiveness to our clients, and ultimately "delivering the goods". We are proud to be one of a number of the Singapore Law Society's SmartLaw-certified law practices, reflecting our commitment to use technology to work efficiently and with respect for the environment.
Belief, Integrity and Respect.
These are what set us apart.
Testimonial - Abigael
"Indispensable in helping us with our case"
Francine was indispensable in helping us with our case, where a competitor within the same trade tried to pass off with a similar company name. The team provided invaluable advice and we had our trademarks registered quickly to prevent any further damage to the value of our brand. Most importantly, the competitor agreed to cease using the name without court action.
Throughout the stressful process, the firm answered all our questions, no matter how trivial, and provided intelligent solutions. She was always at hand to personally reassure us of our rights and her confidence in protecting it, even when it got contentious. We will continue to recommend Francine Tan Law Corporation to friends and partners!
Testimonial - Olivia
"Consistently provided outstanding service"
I began working with Francine Tan at Francine Tan Law Corporation when I decided to trademark/copyright my company logos, product designs. She's been invaluable in advising and guiding my company as we embark on this journey in the IP world. Francine has helped me successfully apply and register for trademark protection across different industries and countries.
Through the years, I have not (and had no need to) consulted with other IP firms or professionals. Francine and her firm has consistently provided outstanding service, support, and advice in the IP matters they have undertaken for my company.
Harper International Solutions (S) Pte Ltd
Testimonial - Paul
"Knowledgeable, Efficient, Proactive and Friendly"
We have used the services of Francine Tan in regard to Trade Mark registrations and advice in Singapore and have found them to be knowledgeable , efficient , proactive and friendly , we would not hesitate to recommend them .
Our accomplishments.
Your utmost dedi©ated IP patner in Singapore
Our accomplishments.
Your utmost dedi©ated IP
patner in Singapore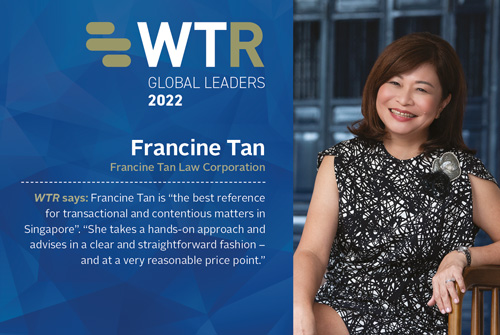 Received Gold Tier Ranking
Singapore's Best Law Firms 2021-2023
Thought Leaders in the IP field